About us
"Handmade production esclusively with milk from the farm…"

The mozzarella store Jemma, opened in 1999, was created respecting the most recent european regulations in terms of hygiene and environmental safety, preserving the traditional "handmade" production.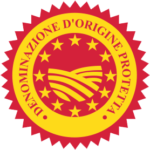 The processed milk comes exclusively from their own buffaloes, and the observance of the procedural guideline established by the Consortium for the protection of buffalo mozzarella from Campania allows them to use the PDO ( Protected Designation of Origin) trademark (DOP: Denominazione di Origine Protetta).
The fresh milk collected is delivered and processed in the cheese factory within 12 hours after the milking process, so the raw milk is transformed without receiving any heat treatment which could alter its organoleptic characteristics.
The electricity necessary to power the machineries both in the stable and the cheese factory, during the hours of solar radiation, is provided by photovoltaic systems.